On March 27 and 28, 2017, took place at the Institute of Philosophy of the Austral University the interdisciplinary workshop "Personal Identity and Agency". It was aimed at researchers in the areas of Philosophy, Psychology and Neuroscience, interested in the importance of the notion of agency in the debate on personal identity, mainly in the context of Cognitive Sciences.
The discussion around personal identity has a long tradition in philosophy. For a long time it was focused on memory as a criterion to be taken into account to guarantee the continuity of the same person. But there are other biological, psychological and ontological variants. The recent perspective of including agency as an essential component of personal identity responds to both philosophical concerns and the specific interests of cognitive science.
Coordinators: Dr Juan Francisco Franck and Dr Georg Gasser.
Schedule
Monday, March 27th
10       Registration
10:15       Opening
10:30       The neural bases of agency – Ángela Suburo (CONICET – Universidad Austral)
11:30       Break
12:00       Philosophy of agency – Georg Gasser (University of Innsbruck)
13:00       Lunch
15:00       (I) Sentido mínimo de sí mismo y agencia: un análisis del núcleo de la actividad subjetiva – Ivana Anton Mlinar (CONICET – Universidad Nacional de Cuyo)
15:45       (II) La noción de agencia en Shaun Gallagher y James Russell a la luz de un estudio empírico con niños de desarrollo típico y niños del espectro autista – Xilenia María Carreras (Universidad Nacional de Córdoba)
16:30       Break
17:00       (III) Concepciones de alumnos de primaria acerca del sentido de la agencia de aprendices y enseñantes de la escritura – Ana Clara Ventura (CONICET – U. Nacional del COMAHUE)
17:45       (IV) El yo como fundamento de la identidad a partir de la fenomenología de la mente de Dan Zahavi – Pablo Emanuel García (U. Católica San Pablo, Arequipa, Perú)
18:30       End of the first day
Tuesday, March 28th
10:00       (V) Qué es una vida 'digna' y el problema de la identidad personal – Mariana Córdoba Revah (CONICET – Universidad de Buenos Aires)
10:45       (VI) Identidad personal y constitución orgánica. El marco de análisis dentro de un naturalismo no reduccionista – Nicolás Moreira Alaniz (Universidad de la República, Montevideo, Uruguay)
11:30       Break
12:00       (VII) Agentes y homúnculos: La construcción de un mito – María Ayelen Sanchez (CONICET – Universidad Nacional del Sur)
13:00       Lunch
15:00       (VIII) Agencia, experiencia y conceptualización: Un análisis del debate Dreyfus – McDowell desde una lectura del idealismo crítico en Fichte – Lucila María Figueroa Frumento (Universidad Nacional del Sur)
15:45       (IX) El fenómeno de la 'brecha' y la teoría de la 'causalidad agente' – Juan Ignacio Blanco Ilari (CONICET – Universidad Nacional de General Sarmiento)
16:30       Break
17:15       (X) Identity Theories in Economics – Ricardo Crespo (CONICET – Universidad Austral)
18:00       (XI) The contribution of the experience of acting to the human identity as agents – Beatriz Sorrentino Marques (Universidad Federal do Mato Grosso, Brasil)
18:45       Closure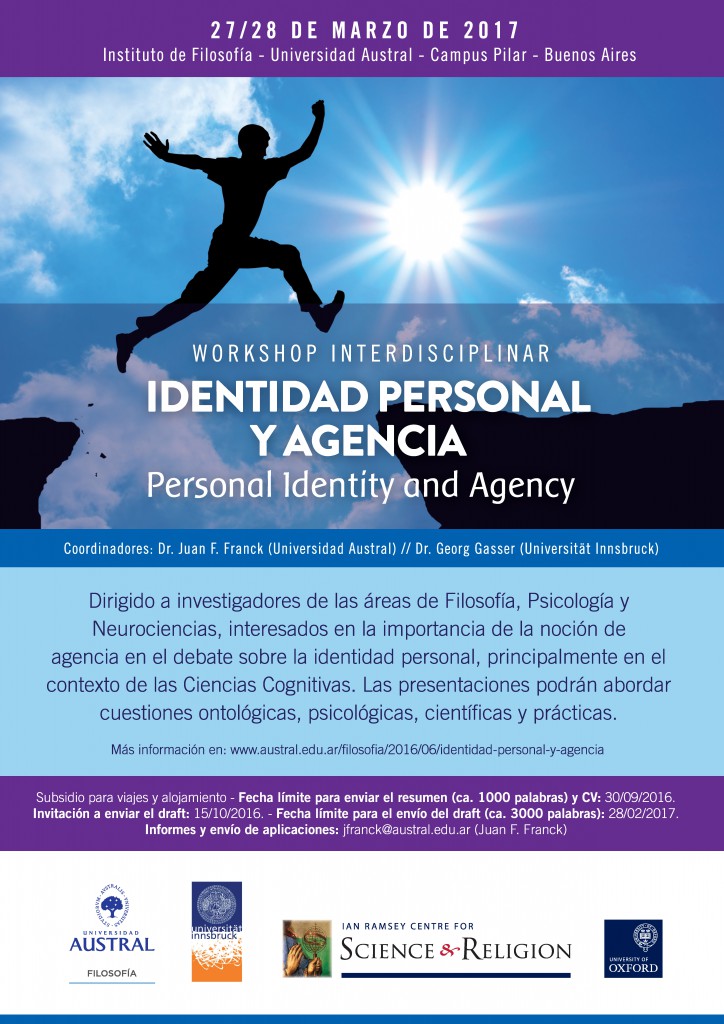 This activity has been possible thanks to a grant from the Ian Ramsey Centre of the University of Oxford, in the framework of the project "Science, Philosophy, and Theology: Capability Building in Latin America".