The Interdisciplinary Research Week "From the Self to the Person" took place Austral University's campus in Pilar from August 6 to 9. The Week began with a presentation by Dr. Claudia Vanney, Director of the Philosophy Institute.
Academics and researchers from 7 countries participated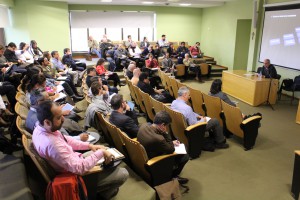 in various activities on the nature of consciousness, the function and structure of neural networks and the transition from the notion of self to that of the person, addressed from philosophical and scientific perspectives.
There were two open keynote talks. The first one, titled "How did the personalization of man's biological fabric take place?", was given by Dr. Juan Arana (Universidad de Sevilla, Spain), who addressed issues related to the nature of consciousness, which he had extensively explored in his book La conciencia inexplicada (Consciousness unexplained). Dr. Belén Mesurado (Universidad Austral) gave the second keynote lecture, titled "The role of positive and negative empathy in prosocial behavior", which discussed prosocial behavior among young children and adolescents.
Dr. Alexandre de Pomposo (Universidad Nacional Autónoma de México) taught a course titled "Function and structure of neural networks". The course addressed various issues regarding the functioning of the neural networks, the dynamic relation between structure and cerebral function and the self-organizing character of the brain, among others.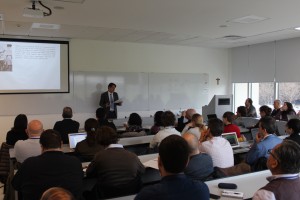 The main event of the Week was the interdisciplinary workshop, which gathered 46 researchers from 22 universities of different Latin American countries, Spain and Italy. Participants showed great interest, and new ideas and proposals for further discussion resulted from the lively conversations.
The presentations during the workshop discussed different questions from philosophical and scientific viewpoints: What is the nature of the narrative self? What does the notion of person add to those of mind and self? Can the second-person perspective play any heuristic role in neuroscience? Are brain studies and the concept of mind sufficient to account for the openness of man to God? Can artificial intelligence provide machines with a mind? What does the biological limit have in the constitution of the life of a person?
You can see the program of the event here.